There are many adventures in Blockchain Cuties. All of them have their own specific rules and requirements, and each adventure has it's own pool of items that can be found in them, and these adventures can be PVP, PVE, or a mix of both worlds.
There are standard adventures and Event adventures. There are also a few Special Adventures as well.
Standard Adventures
These adventures are constantly available in the game, regardless of the event or season currently running.
Below you can find the full list of the adventures and their drop pools.
Windy Hills

The Snowy Mountain

Magical Forest

The Desert

Ivory Tower

Metropolis

City Ghetto

Gates of Babylon

Blood moon Forest

Wasteland

Yakuza District
Dragon Lair

Special Adventures
These adventures fulfill a special role in the game. They can be with specific rules for the applicable Cuties, rotating elements, timed energy limitations and even experimental rule sets.
They are statically available all the time just like the Standard Adventures, but they are can be changed and experimented with as the game is developed, and according to player feedback/ideas/suggestions.
Currently there are 2 adventures like this.
Halls of Grumpy King's Deep
Current setup for the adventure is that all of the gear a Cutie is wearing, has to be enchanted to at least +1 grade. It can be all items +1 grade (or higher) or 1 item equipped with the rest of the slots empty.
This adventure is the main source of toolkits for the players. There are daily limits (player and server-wide) on how many toolkits are dropped during the day. It can be found on the adventure's page: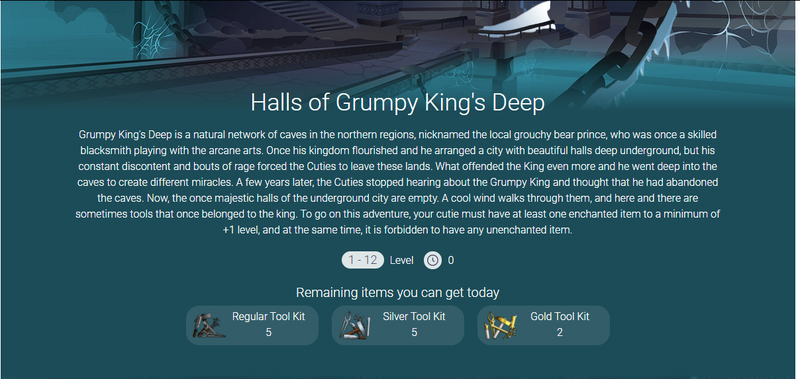 Tavern of Heroes
This is a PVP specific adventure. Cuties of level 10 and higher can participate in it. All of the battles are versus other players.
The adventure, unlike most adventures, has a rotating element system. This means that the elements that give a bonus to Cuties rotates at a specific timeframe.
The remaining time for the current element setup can be found in the top left corner on the adventure card in the Adventure List.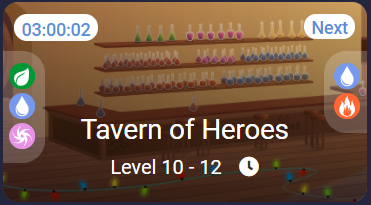 For every win a player is awarded with a Champions Mark, which can be used in the Forge to craft item chests, under "Champions Marks" subtab.